Murcia Airport Departures (RMU)
Not all flights may be showing. If not available use search above to find your flight by airline, airport or flight number.
Destination
Airline
Flight no.
Scheduled
Est./Actual
Status
London (LGW)
easyJet
U28048
05:05
Scheduled
Mahon (MAH)
Volotea
V73366
08:00
Scheduled
Bournemouth (BOH)
Ryanair
FR5947
08:30
Scheduled
No flight departures were found at Murcia Airport.
Flight Departures at Murcia Airport
It takes just 25 minutes to get to Murcia Airport from the town center of Murcia and parking facilities are not just plentiful and affordable but are located just outside the passenger terminal within easy walking distance for Murcia Airport departures.
The airport is served by a number of charter and budget airlines such as Easyjet and Iberia, Jet2.com and Norwegian Air Shuttle, Ryanair and Air Nostrum. Flight connections for departures at Murcia San Javier Airport, as it is locally known, include London and Glasgow, Birmingham and Nottingham in the United Kingdom and Dublin in Ireland.
From the bus station in Murcia's town center air passengers can board bus line 73, which belongs to latbus special airport coach services and leaves the town center at 1.00 pm, 3.15pm and 5.30 pm on Mondays, Fridays and Sundays. For more information on this special service passengers should visit website www.latbus.com. A one-way ticket costs EUR 7.00 per person.
Taxis leave from the outside of major hotels and various other central Murcia locations, dropping off air passengers directly outside the terminal building. The airport is served by eat least ten car rental companies, of which three of their counters in the airport and the remainder have offices near the airport.
Pick-up of rental cars can take place upon initial arrival at the airport but is also possible in the town center of Murcia. Most car rental companies will offer a different drop off point, if they have an office at an airport. Getting to Murcia's gateway by car is easy and convenient, as the airport is connected to the town via a dual carriageway.
The parking spaces are charged at EUR 0.026302 per minute with a daily maximum of EUR 9.25 for parking duration's of up to four days. From the fifth day onwards Murcia Airport departures pay EUR 7.40 per day for their parking. In total the airport provides parking for 500 vehicles.
As San Javier is scaling down operations to hand over commercial flights to the new airport at Corvera, there are now only three catering establishments left in the departure area, two restaurants and one snack bar. A multi-shop offering pretty much anything a traveler might need – from perfume to gifts, toys and newspapers to alcoholic drinks and cosmetics – is also located on the ground level in the departure lobby, together with a shop selling gourmet produce from the Murcia region.
Departures at Murcia San Javier Airport can also avail themselves of baby changing rooms, lost luggage desks, an ATM and information stands. The terminal offers a barrier-free airport with meeting points and assistance to reduced mobility passengers.
In the airport lobby passengers will find 18 check-in desks for their use, where their luggage can be handed over and where they will receive their boarding card. After passing through the security control area, departure passengers will find four more shops and two more cafeterias in the actual departure lounge. Boarding takes place via six gates.
Last year some 1.2 million passengers flew in and out of Murcia San Javier Airport, showing how popular the Costa Calida and Mar Menor are as holiday destinations in Spain. The gorgeous coastline with its fine beaches and the many excellent golf courses offering not just world-class tuition and facilities but also world-class views have won over many fans during the past few years and the various golf resorts in the area cater for an affluent and sophisticated type of holidaymaker, while the remaining resorts are mainly targeting the family market.
For Murcia San Javier Airport departures not travelling from the town of Murcia, there are plenty of taxi operators providing transport from towns like Torreveija, Mazarron, Orihuela and Lorca.
Was your flight delayed or cancelled?
You may be eligible to receive up to 600 EUR compensation per person in your party..
Claim Now!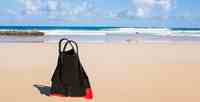 The Mar Menor is officially Europe's largest lagoon; its warm, crystal clear and shallow waters...